From Inverness Life "Home & Garden" article — December 2016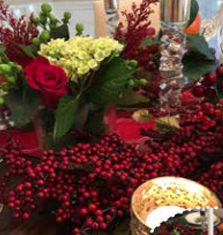 With a few simple touches, your holiday table will look incredible and impress your friends and family!
Start with your centerpiece; it should not be too tall or too small. You can even use a few different interesting pieces and pull them together for a fabulous center attraction. And what goes better then cranberries and holly to had that festive holiday element to your table. Don't forget to pull out your best dishes and silverware. And talking silver — we recommend silver bowls for flower arrangements. This will add a sparkle to your table.
You can read more tips here: Deck the Halls & Your Table